Trust us, this will make your chore list SO much easier to tackle.
Throw Them On a Cart
This rolling cart means you can pull your products with you from room to room — instead of having to take multiple trips to corral all your essentials. Even better: You can stash it out of sight when you're done.
Get Creative
Sure, this organizer was designed for shoes, but it's just as savvy when used for spray bottles and hand brushes. It'll also free up some shelves in an already-cramped linen closet.
Go Higher
When in doubt, add a few shelves. Then label tubs by room (bathroom, kitchen, you get the picture) so you don't have to sort through multiple containers to find the cleaner you need.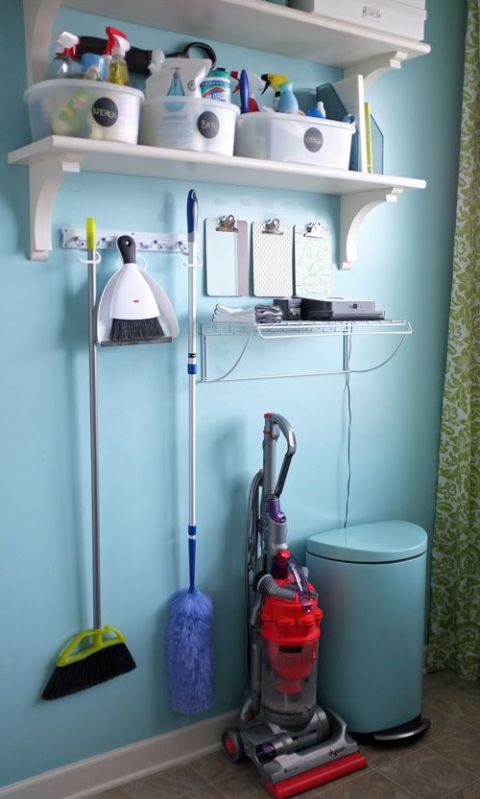 Try a Tension Rod
The handles on spray bottles will sit on top of a rod without falling over. Plus, this savvy idea basically doubles the number of cleaners you can fit under your sink.
Make Use of a Tote
A portable caddy makes it a breeze to move from one room to another as you conquer your weekend cleaning checklist.
Spin Your Storage
A Lazy Susan makes it easier to find items that you keep under the sink. It's especially handy for less-frequently-used cleaners that end up hidden behind the pipes.
Go Vertical
Even if all the space you have is a few inches next to your washer or dryer, itty bitty baskets can hold all your go-to essentials.
Look to Cabinet Doors
Why wouldn't you put everything you need to clean your bathroom in your bathroom? Maybe because you don't have space — until you add some savvy baskets on the back of your cabinet door, that is.
Hang Your Brooms
This chevron backdrop almost makes cleaning tools look stylish. Bonus: This method means you can say goodbye to brooms tumbling over as soon as you open your closet door.
Pick a Go-To Spot
If you're lucky enough to have a closet you can designate to all your cleaners, do it. Then make sure you stock up on extras so you always have a back up for spills and stains.