If your bathroom is looking weary, give it a fresh look with simple updates that won't break the bank.
Even if you don't have the budget or inclination to do all 10 of these top tips, don't despair. Tackling even one or two can quickly make a difference.
So take a day or even a few hours  and transform your bathroom from bland and basic to refreshed and beautiful.


1. Paint

Paint is the quickest and most economical solution for drab decor.
All white is a traditional favourite, but take a cue from nature's palette with subtle shades like eau-de-nil (a light green-grey that literally takes its name from the Nile), ice or a pale robin's-egg blue.
Tap your creativity too: A single wide stripe of paint can serve as a backsplash, while wide stripes everywhere can add serious, but timeless, punch.

2. Wallpaper
Wallpaper in a steamy room can give pause, but for extra adhesion, prep walls first with glue and then apply a tougher vinyl wallpaper. Contemporary spaces look sleek in geometric prints, while fun decals require less of a commitment.
Eclectic bathrooms can carry off the luxe look of dramatic damasks or bold florals, while natural fibre papers in a powder room look rich and sophisticated, especially within elegant, monochromatic palettes.
3. Vanity
For big impact, change the bathroom's centrepiece with a ready-made vanity.
There are so many options, whether you favour a casual, beach-house beadboard version, or sleek boutique-hotel model in a dark stain with a vessel sink.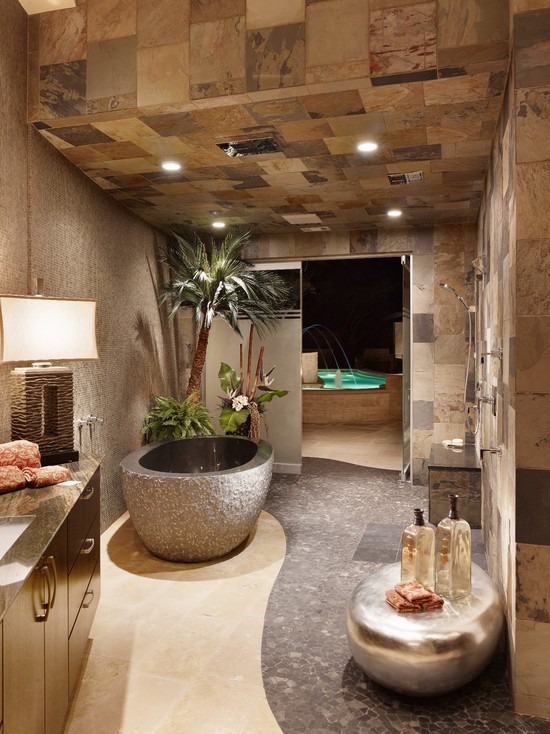 4. Fixtures
Don't underestimate the power of fixtures such as towel bars and hooks to spruce up a bath. Make sure the finishes are the same for continuity. Traditional bathrooms shine with crystal or chrome knobs, and modern spaces suit brushed nickel finishes.
5. Tile
Designers adore the European chic of glass mosaic tiles to add personality: Try them on a backsplash in addition to the shower.
Tile floors can make a small bathroom seem bigger by using large and oversized tiles; a natural stone such as slate, tumbled marble or Travertine are high-style, non-slip options.
6. Window treatments
Crucial for privacy, window treatments also help establish the tone of a bathroom, adding a shot of colour, texture or both. Try bamboo matchstick blinds for an earthy, eclectic touch, or opt for cotton tab panels or etched glass film for a spa-like feel.
 7. Mirrors and medicine cabinets
A beautiful new mirror can make your bath sparkle like a spa. Emphasize a streamlined, contemporary aesthetic with a mirror framed in silver or nickel, or go baroque and feminine with burnished or bright gold.
For designer oomph, refit a simple mirror with an ornate picture frame painted in a striking hue. And if storage is minimal, a mirror-fronted medicine cabinet is an easy and affordable fix.
8. Storage
Clutter control is key when it comes to creating a calming space. Freestanding wall and floor units and baskets provide essential places for myriad bathroom supplies, but if you're working with open storage, displaying multiples of one item, like rolled white towels or bars of unwrapped soap, is a designer trick to keep shelves looking chic.

9. Accessories

The items lining your sink shouldn't be a mish-mash. Pick tumblers and wastebaskets that match; white ceramic or chrome finishes are always appropriate. New towels tie a colour scheme together and look fresh.
Plants and flowers are always a lovely touch, too, and thrive in the humidity of a shower-frequented room.
And when it comes to your shower curtain, think of it as as a big, blank canvas and make a statement. Go bold with serious graphics, add pop of colour to a white space or put a playful print in a children's bathroom.
10. Lighting
The simple switch-up of sconces or an overhead light fixture can do wonders to freshen up a bathroom. Bar lights keep the overall mood sleek and uncluttered but don't be afraid to inject drama.
Even the simplest white bathroom – white walls, white subway tile and white vanity – becomes suddenly transcendent with elaborate sconces or a bold, crystal-dripping chandelier.
Just remember, put everything on dimmer switches so the room can easily move from clean and functional to romantic refuge.