The Real-estate industry is currently experiencing a downward trend. This trend is making it difficult for the contractors and property owners. They are optimizing money spent to improve a property appearance. This not only impacts the appearance of the properties but also affects the resale value.  There is an increasing trend for usage of granite and marble in homes. Its use by the construction companies is justified.
It is locally available and is also cost effective. The use of these naturally available raw materials is possible for a reason. The introduction of granite fabrication tools is contributing to the increase in demand for stones. They are used to quarry, cut and fabricate building hard construction materials. Using granite and marble stone is becoming a win-win.
Fabricating Buildings with Granite
Granite is among the most common forms of naturally occurring rock found across the globe. It also comes in the widest array of colors and designs. But, to use granite in the construction, granite fabrication tools are required. These tools make it possible to cut the granite into the desired size blocks as well as polish the granite to deliver a perfect sheen at the end. Tools used to fabricate granite are specially manufactured. They use synthetic diamonds and carbide, which provides the required strength and abrasiveness.
To use Granite in construction, it is important to fabricate it. Granite is among the hardest rocks. They are available in plenty and also have beautiful appearance. This makes it a perfect choice for medium-cost construction. It helps in delivering high-quality finishing.
Cutting and Resizing Granite for Construction
At the stone quarries, granite is mined in large blocks which need breaking it down further into smaller manageable sizes. Using industrial size cutters granite blocks are effectively broken down. Once broken down, these slabs can be further fabricated into smaller sizes. Granite slabs are cut and pre-fabricated. At construction site, custom shapes of granite edges are needed. Diamond profile wheel an effective tool to do custom shaping of stone edge.  This tool is capable of profiling, grinding, shaping and polishing of thin granite slabs. So, floor, countertop, tiles edges are fabricated by contractors at a construction site.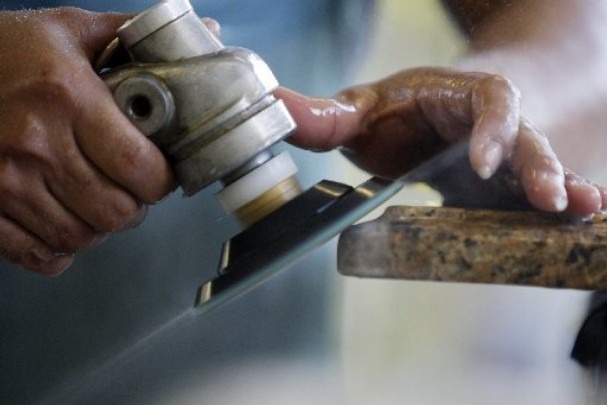 Polishing of Granite to a Smooth Finish
Fabrication of granite is not only limited to cutting and resizing of the blocks but also involves delivering a final sheen to the granite. This again requires for specialized equipment which utilizes hard granite polishing pads and water. This will smooth the rough granite surfaces to result in a smooth finish. While these are specialized tools, they do need specialized care. This allows them to deliver desired finish to the granite. Smoothening of the rough granite is achieved through spinning a smooth granite wheel. This is done on the rough surface using water for lubrication and diamond as the cutting agent.
The application of granite in the construction industry optimizes the cost of construction. It also delivers an adorable finish to the building. Granite shaped, polished with high quality diamond profile wheel will last for several decades. They do not need frequent replacement or re-polishing because of which they are also cost effective. This has resulted in an increase in the utility of granite in the construction industry. Contractors and property owners have always acknowledged the benefits of granite.